9 h, jan 16, 2018 y - CALLED WELLSFARGO REPORTING LOCAL BRANCH HARASSMENT OUTSIDE OF LAW AND POLICY
Description:
CALLED CUSTOMER SERVICE TO REPORT OCCURRENCES OF PEOPLE BEING HARASSED FOR SIMPLY MAKING A CASH DEPOSIT. THE MAIN DELIMITER SEEMING TO BE THE OUT OF STATE DEPOSIT AS KEY AFTER READING THE JOURNAL STAR ARTICLE.
AFTER HEARING MANY REPORTS NOW FROM FRIENDS AND FAMILY I TOOK ACTION OF AT LEAST GETTING THIS ON RECORD AS IT SEEMS LAW IS BEING OVERSTEPPED EITHER OUT OF LAZINESS OF LAW ENFORCEMENT POSSIBLY SEEING PATTERN AND TRYING TO GET DATA WITHOUT WARRANT TO DO SO OR SIMPLY THE BANKS AND FEDERAL TRYING TO GET THEIR HOOKS INTO PRIVATE DETAIL NOT USUALLY OBTAINED IN A CASH TRANSACTION RECORD FOR TAX PURPOSES OR TO FURTHER DEVIATE PRIVACY PROTECTIONS.
EITHER WAY IT DOES NOT CONSTITUTE HARASSMENT BEING GIVEN SELECTIVELY ON TELLER OR MANAGEMENT DISCRETION OUTSIDE OF ANY LISTED POLICY. THERE IS SOMETHING SEVERLY WRONG HERE AND EVERYONE I TALKED TO AGREED THEY HAVE NEVER HEARD OR EXPERIENCED ANYTHING LIKE THAT AND NEEDED TO INVESTIGATE FURTHER. THEY OPENED A CASE FOR INVESTIGATION WITH CHRISTOPHER AT THE MAIN OFFICE AND I NEVER HEARD BACK.
Added to timeline: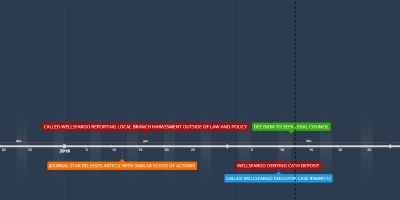 WELLSFARGO POSSIBLE PRIVACY INFRINGEMENT, DISCRIMINATION, AND BIAS FRAUDULENCE
WELLSFARGO OVERSTEPPED PRIVACY BOUNDS BY INQUIRING PERSONAL ...
Date: