19h 16min, feb 9, 2018 y - CALLED WELLSFARGO EXECUTIVE CASE #3699772
Description:
I CALLED AND SPOKE TO A RICARDO WHO OPENED CASE #3699772 TO RECORD THE CURRENT INCIDENT I HAD WITH THE DRIVE THRU AS HE SAID MY PREVIOUS CASE WAS CLOSED BY CHRISTOPHER.
I MADE THE REPORT SIMILAR TO WHAT I LISTED IN THE TIMELINE BUT ASKED FOR A FEW CLARIFICATIONS.
IS THERE ACTUAL POLICY ALLOWING THE ACTIONS TAKEN TO ALLOW A CASH DEPOSIT?
RESPONDED THERE IS A "PILOT POLICY" BEING TESTED AT SAID BRANCH.
I ASKED IF THIS WAS PUBLIC STATED AND COMMUNICATED POLICY SINCE IT EFFECTS MY FEDERALLY PROTECTED TRANSACTIONS.
RESPONDED NO SINCE IT IS PILOT IT IS NOT COMMUNICATED TO THE PUBLIC.
I ASKED WHAT IS THE ACTUAL THRESHOLD REQUIREMENT AS THE MANAGER STATED WE WENT OVER THIS THRESHOLD AT $1250 AND CAUSED A DEFAULT REQUIREMENT.
RESPONDED THERE IS NO DEFINED THRESHOLD.
I ALSO STATED THAT I HAVE MADE AND HAVE HAD FRIENDS MAKE IN THE LAST FEW WEEKS DEPOSITS OF CASH NOT QUESTIONS OF INTERROGATION REQUIREMENTS TO COMPLETE TRANSACTIONS.
RESPONDED THIS IS SOMETHING BRAND NEW. WHEN QUESTIONED HOW NEW JUST STATED VERY NEW WITH NO DATE OF INITIATION,
I STATED THAT OBVIOUS DISCRIMINATION AGAINST THE ELDERLY OR MORE IMPOVERISHED IS OCCURRING AND IS HIGHLY INAPPROPRIATE.
RESPONDED SORRY TO HEAR THAT AND UNDERSTANDS WHY I AM UPSET. SAID GIVE HIM UNTIL TUESDAY SINCE IT WAS THE END OF DAY FRIDAY AND GAVE ME THE CASE NUMBER AND 1-800-511- FOR FURTHER CONTACT.
Added to timeline: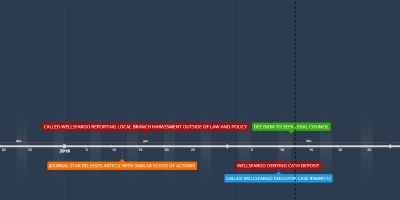 WELLSFARGO POSSIBLE PRIVACY INFRINGEMENT, DISCRIMINATION, AND BIAS FRAUDULENCE
WELLSFARGO OVERSTEPPED PRIVACY BOUNDS BY INQUIRING PERSONAL ...
Date: