17h 50min, feb 9, 2018 y - WELLSFARGO DENYING CASH DEPOSIT
Description:
CALLED FATHER AS MY STARTER WAS OUT ON MY ROVER AND WITH THE BLIZZARD COMING HIS CAR WOULD NOT MAKE IT IN THE MORNING AND BEING FRIDAY I HAD NO WAY TO GET THE ROVER OUT OF TOWN TO TO THE ONLY SHOP IN NEBRASKA HANDLING THE FACTORY LAND ROVERS. MY FAMILY IS 5 MINUTES FROM ME AND MY BEST BET TO MAKE TO WELLLSFARGO BEFORE THE DRIVE THRU CLOSED AND BEFORE THE WINDOW TO COMPLETE THE BITCOIN PURCHASE EXPIRED WITH BITQUICK.CO
MY FATHER ARRIVED AND WE TOOK OFF FOR THE BANK, I HANDED HIM THE ENVELOPE AND HE SENT IT IN THROUGH THE DRIVE THROUGH TUBE FOR A DEPOSIT OF 1250.08 THE REQUIRED AMOUNT TO COMPLETE THE BITCOIN PURCHASE.
THEY ASKED IF I KNEW THE RECIPIENT AND I STATED NO THIS IS A DEPOSIT TO COMPLETE A ONLINE TRANSACTION. BITCOIN WAS WRITTEN ON TH ENVELOPE FOR THIS EXACT REASON. THEY SAY JUST ONE MOMENT, RETURN AND SAY THE RECIPIENT WASN'T AWARE WHAT THE EXACT TOTAL WAS FOR SO WE ARE DENYING THE DEPOSIT. BY THIS POINT I LEANDER FORWARD WITH A ARE YOU FUCKING SERIOUS LADY?!? AND YOU NEED TO GET YOUR MANAGER AS IT WAS A TELLER. THE MANAGER CAME UP WITH A POMPOUS DEMEANOR AND SAID SORRY HE WAS UNAWARE OF THE TOTAL. i RETORTED DID YOU TELL HIM IT WAS FOR THE PURCHASE OF THE BITCOIN HE HAS POSTED FOR SALE. SHE STATED NO. I ASKED WHY NOT WHEN IT WAS WRITTEN SPECIFICALLY WITH THE CASH ENVELOPE NEXT TO THE ACCOUNT INFORMATION THEY USED TO CONTACT HIM. I SAID THEY NEED TO RE-VERIFY AND SHE SAID NO YOU DO IT. WE ARE CLOSING. I SAID THEN GET YOUR CORPORATE ON THE PHONE THAT I HAVE ALREADY FILED COMPLAINT WITH FOR THIS EXACT ACTIVITY AND SHE SAID I WILL SEND YOU A COMPLAINT CARD AND YOU CAN CALL THEM. THEY SEND BACK MY ENVELOPE AND DROPPED THE CURTAINS CAUSING SOME CHOICE WORDS TO COME OUT AS WE DROVE OFF FLABBERGASTED AT THEIR ACTIONS.
I THANKED MY FATHER FOR TRYING AND HE DROPPED ME OFF AND RETURNED HOME WHILE I SIMMERED DOWN TO CLARIFY THE LEGALITY OF WHAT JUST HAPPENED.
Added to timeline: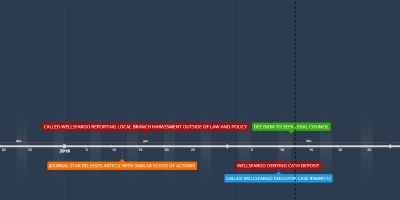 WELLSFARGO POSSIBLE PRIVACY INFRINGEMENT, DISCRIMINATION, AND BIAS FRAUDULENCE
WELLSFARGO OVERSTEPPED PRIVACY BOUNDS BY INQUIRING PERSONAL ...
Date: