feb 12, 2018 - DECISION TO SEEK LEGAL COUNCIL
Description:
DECIDED TO SEEK COUNCIL AFTER WATCHING FATHER WHO GOT UP FROM HIS DINNER TO ASSIST IN ME MAKING A DEPOSIT WHEN MY STARTER WENT OUT ON THE ROVER. ONLY TO GET BELITTLED AND TALKED DOWN TO LIKE SOME SCUM TRYING TRYING TO FALSIFY A CASH DEPOSIT NO LESS. HE HAS BEEN THROUGH 3 HEART ATTACKS AND A BI-PASS. TO SEE HIM GET CONFUSED AND STRESSED AT ALMOST 70 YEARS OLD, WHEN HE GOT ME THERE WITH JUST 5 MINUTES LEFT AND A BLIZZARD FOLLOWING THE NEXT MORNING WAS DISHEARTENING AND INFURIATING AND ILLEGAL FROM THE INFORMATION I AM GATHERING THUS FAR.
Added to timeline: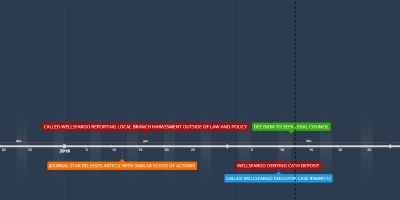 WELLSFARGO POSSIBLE PRIVACY INFRINGEMENT, DISCRIMINATION, AND BIAS FRAUDULENCE
WELLSFARGO OVERSTEPPED PRIVACY BOUNDS BY INQUIRING PERSONAL ...
Date: