dec 31, 1868 - The First Fort Laramie Treaty
Description:
First Sioux War ends with the Treaty of Fort Laramie; the US agrees to abandon Forts Smith, Kearney, and Reno.
Board of Indian Commissioners – Congress created the Board to investigate and report alleged BIA mismanagement and conditions on reservations where corruption was widespread. The Board continued to operate as an investigative and oversight commission that also helped shape and direct American Indian policy.
Added to timeline: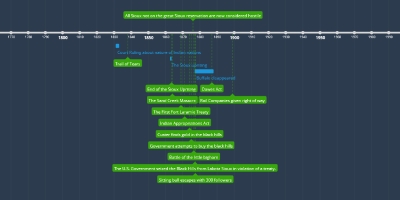 Destruction of indian way of life
Date: