jul 2, 1864 - Lincoln's Ten Percent Plan vs Wade-Davis Bill
Description:
Abraham Lincoln had a plan to bring the Union and the Confederates back together. But so did some radicals.
Ten Percent Plan: This was a plan made by Abraham Lincoln in 1863 to bring the states back together. It said that 10% of every Southern State population must pledge loyalty to the Union in order to form a new state government with a new constitution that banned slavery. Lincoln did not intend to punish the South.
Wade-Davis Bill: This was a plan for reconstruction formed by radicals. It said that for Southern States to rejoin the Union, they must have a majority of white men pledge loyalty to the Union, only white males who swore they didn't fight in the Civil War could vote for delegates, and all new constitutions must ban slavery.
These were important to the Reconstruction because these laws would determine how the country would turn out.
Added to timeline: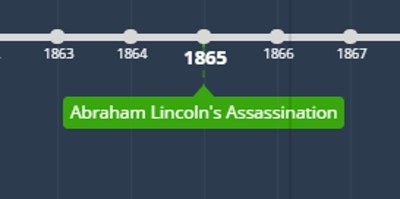 Reconstruction TL
Date:
Images: