19h 54min, dec 7, 2001 y - Barnes warns Martinez aboutCole
Description:
"Within a few weeks of her arrival, Claudia was playing golf on the Club's private 18-hole golf course when she was approached by Randy Barnes, the head of the Club's Budget and Finance committee who said, 'watch out for that guy in accounting. We've never been able to get our construction loan accounts to balance.'" pg 1
Added to timeline: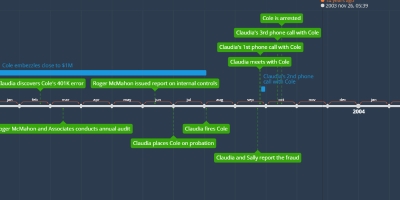 Old Deercreek Fraud Timeline
"Accounting Fraud and Deercreek Country Club"
Date: