sep 23, 1862 - Battle at Wood Lake
Description:
Henry Sibley tries to negotiate a settlement with Little Crow, but Little Crow is not ready to give up. Sibley demands surrender, and Little Crow refuses. His troops move up the Minnesota River, and arrived at Lone Tree Lake, mistakenly identified as Wood Lake. The troops find a group of Dakota, and this was the last major battle.
Added to timeline: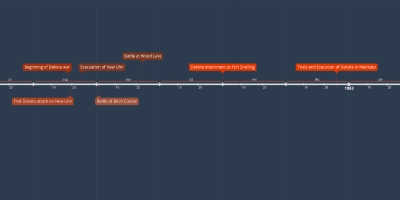 Dakota War- MN studies, Ella Mevissen
Events of the Dakota war!
Date:
YouTube: