jan 1, 1832 - CHlorea Epidemic.
Description:
The outbreak of cholera prompted a wave of panic. At the time, no one
knew what caused cholera or how to prevent and treat it. Some people
thought that it was caused by an invisible bad air, and that burning
fires could destroy it. Others thought that it was caused by bad living
conditions. By the end of October 1832, the disease had claimed 7500 lives
in Québec City and Montréal. It wasn't until the 1850s that it was discovered
that cholera was caused and spread by contaminated water or food.
Health boards were established to care for those with the disease and also
to inspect immigrant ships
Added to timeline: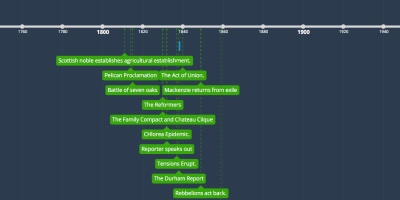 chapters 7/8
Date: