dec 29, 1839 - The Act of Union.
Description:
The Act of Union of 1840 joined Upper and Lower Canada into
one colony, named the Province of Canada. The government for this new
province was made up of representatives from Canada West (former Upper
Canada, present-day Ontario) and Canada East (former Lower Canada,
present-day Québec), beginning in 1841. The act of union made the capital Kingston, Canada West (present-day Kingston, Ontario),The use of French was banned in the government. English was now the
official language of the new government, and Canada West and Canada East were given equal numbers of elected
representatives. (In 1841, Lower Canada's population was 650 000;
Upper Canada's population was 500 000.).
Added to timeline: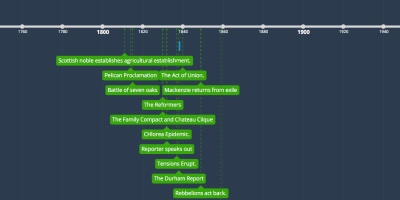 chapters 7/8
Date: