apr 9, 1917 - The Battle of Vimy Rigge
Description:
The Battle of Vimy Ridge, during the first World War, is one of Canada's greatest military achievements. The Canadian's objective was to take control of an Axis-held high ground to allow their allied forces to pass through the area unharmed. It was the first time that all four divisions of the Canadian Corps fought together and men from all regions of Canada were present, giving each other a sense of unity and pride. When they captured the area, it was the largest territorial advance made so far in the war, but it came at a cost. Over 10,000 Canadian soldiers were killed or wounded in the battle. Vimy Ridge is considered a characterizing moment for Canada, our victory gave us a sense of independence from Britain and showed that we were capable of overcoming great adversity.
Added to timeline: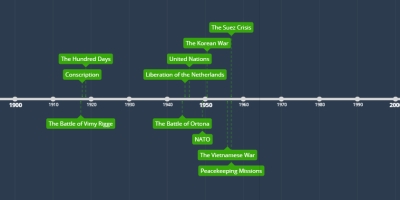 Canada's Military HIstory
This timeline depicts the most significant events, people, a...
Date: