nov 6, 1956 - The Suez Crisis
Description:
Although the Canadian military had participated in peacekeeping operations before the Suez Crisis, this mission in 1956 changed the way they were viewed them as an insignificant power in the world and how they participated in the future. It started when Israel invaded Egypt, shortly followed by Britain and France, in an attempt to regain control of the Suez Canal and remove the Egyptian President from office. Their invasion sparked a global outrage and many countries advised them to withdraw. In order to de-escalate the situation, Canadian minister Lester Pearson addressed the UN, advising them to send a extensive peacekeeping force into Egypt. The British, French, and Israeli forces were able to withdraw and later, Pearson won the Nobel Peace Prize for his efforts.
Added to timeline: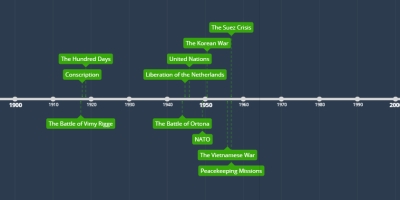 Canada's Military HIstory
This timeline depicts the most significant events, people, a...
Date: