nov 1, 1955 - The Vietnamese War
Description:
Officially, Canada didn't participate in the Vietnam War. They wanted to sustain an impression of neutrality because of their membership to the International Control Committee, who were trying to solve the issues left by the Korean War. However, Canada sided with the U.S. - partly due to their NATO alliance - and helped to exchange messages and try to mediate the conflict to allow the States to withdraw without humiliation. They also sold approximately $3.5 billion to aid them, drastically lowering Canada's unemployment rate. The war also brought in thousands of Americans trying to get out of the draft or the military, Canada discreetly accepted them into their country, later they have been referred to as one of the most well-educated groups to immigrate to Canada. The aftermath of the war also brought in many refugees from Vietnam. The Vietnam War had a significant effect on Canada, as we became more independent and less afraid of the U.S. after helping them and criticizing their war methods publicly.
Added to timeline: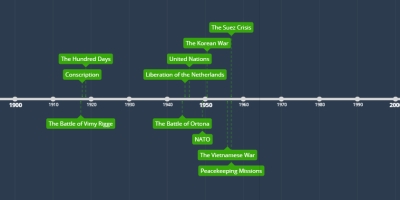 Canada's Military HIstory
This timeline depicts the most significant events, people, a...
Date: