may 8, 2013 - South Pole (2013 & 2014) [The Scott Expedition]
Description:
Between October 2013 and February 2014, Saunders and Tarka L'Herpiniere made the first ever return journey to the South Pole from Ross Island on the same route attempted by Sir Ernest Shackleton on the Nimrod Expedition, and by Robert Falcon Scott on the Terra Nova Expedition. At 1,795 miles (2,888 km) the Scott Expedition is the longest human-powered polar journey in history. Saunders and L'Herpiniere set out from Ross Island on 26 October 2013, reached the South Pole on 26 December 2013 and finished their expedition at Ross Island again on 7 February 2014.Although the journey was completed, it must be noted that the Scott Expedition cannot be claimed to have been fully unsupported, since some supplies had to be delivered by air on their return journey.
Robert Swan OBE and Falcon Scott (Captain Scott's grandson) were patrons of the expedition.
Added to timeline: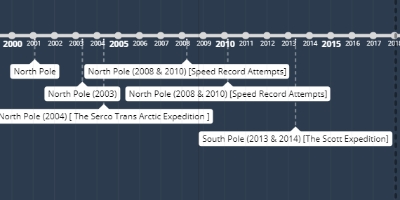 Ben Saunders
Date: