apr 29, 2004 - North Pole (2004) [ The Serco Trans Arctic Expedition ]
Description:
In spring 2004, he set out to make a solo and unsupported crossing of the Arctic Ocean on foot, following a planned route from Russia's Cape Arktichevsky to Ward Hunt Island, Canada, via the North Pole.Saunders was dropped by a Russian Mil Mi-8 helicopter at a start position of N 81'47.6 E 095'49.2 on 5 March 2004, reached the North Pole on 11 May 2004, and was picked up from N 89'30.2 W 088'11.1 (on the Canadian side of the Arctic Ocean) by a Kenn Borek Air Twin Otter ski plane on 14 May 2004.
Saunders' claim to have reached the North Pole solo in 2004 is disputed by ExplorersWeb,a website maintained by rival explorers Thomas and Tina Sjögren, who consider only expeditions that begin their journey on land to be valid. His 2004 expedition started 70 km north of Siberia's Cape Arktichevsky, with his online journal reporting 50 km of open water north of the Russian coastline that prevented him starting from land. ExplorersWeb listed Saunders' 2004 journey to the North Pole as a "partial expedition" on their database of expedition records
In 2004, Australian explorer Eric Philips argued that this categorization of expeditions may have been a factor in the death of Finnish explorer Dominick Arduin, who died at Cape Arktichevsky in March 2004: "I can't help but think that this tragedy permeated as a result of the pressure placed on adventurers to have their expeditions regarded as unsupported. Again, Explorers Web and others are placing undue pressure on the adventuring community by categorizing expeditions on their achievements... we should not be pressured into feeling that our efforts fall short of somebody else's parameters."
Added to timeline: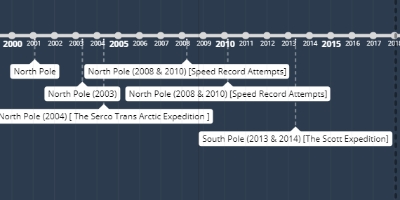 Ben Saunders
Date: