aug 2, 2017 - Build my life
Description:
Construye mi vida (Ver fecha de publicación del video - 2 Agosto 2017)
http://lavozdelmuro.net/10-errores-de-arquitectos-que-debieron-haberse-dedicado-a-otras-cosas/
Apparently, no event ocurred on this date but in the spiritual realm, without dout the Lord desires to bless us, love us, save us and change our heart.
LORD, WHO ARE WE AS A PEOPLE, having been given blessings in portions as no other nation before us? What has become of us, Father? We have spoiled your spacious skies with buildings and cities breathing with sin. The amber waves of grain are no longer viewed as our blessing but as our due. The awe and reverence due You when we gaze upon the purple mountains and their majesty is no longer held; rather, how much pleasure they can give us. Father, we have spurned You. We've blamed our problems on those who promote darkness, but You have revealed yourself to us through Your Son. Now our eyes have been opened by Him. Our lack of holiness, our not being light has allowed darkness to prevail. Indeed, our sins which we wrongly view as small have allowed those in darkness to commit great sins without shame. We now realize that it is because of our failings as Christians. Father, Samuel told your people, "It is true you have committed all this evil, still you must not turn from the Lord, but worship Him with your whole heart. For the sake of His own great name, the Lord will not abandon his own people." Father, we come before You with our whole hearts and ask You to grant us the pardon won for us by your Son.
Jesus, we do not deserve to even be heard, yet we know Your passion merits that we are. Lord Jesus, we call You as You have called us. Please, intercede before God to forgive us, to heal us, to heal our families, and to heal our nation.
Father, grant Your Son's intentions and hear His pleas for us. We know you are justly irritated with us but we beg and plead for forgiveness through our repentance from our hearts. We realize our nation is headed toward disaster by so many signs You have given us. Holy, Holy, Holy God, grant Your Son His requests that we may again be your people, not a nation above God but one nation humbled and under God. Amen.
-------------------------------
SEÑOR, ¿QUIÉNES SOMOS NOSOTROS COMO PUEBLO, habiendo sido bendecidos en porciones como ninguna otra nación lo fue antes? ¿En qué nos hemos convertido, Padre? Hemos estropeado tus cielos espaciosos con edificios y ciudades que respiran pecado. Las ondas ambarinas del grano ya no son vistas como nuestra bendición sino como nuestro derecho. Cuando miramos la majestad de las montañas púrpuras ya no pensamos en el temor y reverencia que te son debidos, sino en cuánto placer podemos obtener de su contemplación. Padre, te hemos desdeñado. Nuestra falta de santidad, nuestra parsimonia en ser luz del mundo ha permitido prevalecer a la oscuridad. De este modo, nuestros pecados que erróneamente consideramos pequeños han permitido a quienes viven en la oscuridad cometer grandes pecados sin tener que avergonzarse. Ahora comprendemos que es por nuestras fallas como cristianos. Padre, Samuel le dijo a tu pueblo, "No temáis; vosotros habéis cometido todo este mal; pero con todo eso no os apartéis de en pos de el Señor, sino servidle con todo vuestro corazón. Pues el Señor no desamparará a su pueblo, por su grande nombre; porque el Señor ha querido haceros pueblo suyo." Padre, acudimos ante Ti de todo corazón y Te pedimos que nos garantices el perdón ganado para nosotros por tu Hijo.
Jesús, no merecemos incluso ser oídos, pero sabemos que Tu pasión merece que lo seamos. Señor Jesús, Te llamamos como Tú nos llamaste. Por favor, intercede ante Dios para que nos perdone, para que nos sane, para que sane a nuestras familias y para que sane a nuestra nación.
Padre, garantiza las intenciones de Tu Hijo y escucha Sus plegarias por nosotros. Sabemos que estás justamente irritado con nosotros pero te rogamos y suplicamos perdón mediante el arrepentimiento de nuestros corazones. Comprendemos que nuestra nación está encaminada al desastre por multitud de signos que Tú nos has dado. Santo, Santo, Santo Dios, garantiza a Tu Hijo.
Added to timeline: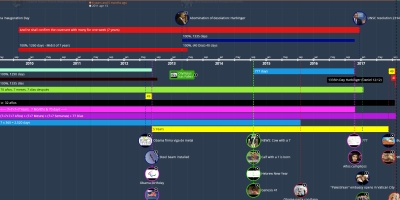 There is nothing new under the sun
A shadow of what is to come. Presagio - Sombra de lo que pue...
Date:
Images:
YouTube: