14h 37min, nov 19, 1863 y - The Gettysburg Address November 19, 1863
Description:
Summary:
The main purpose of the fight was to honor the dead and to rededicate the living to war effort in order to consume freedom. They recalled the principles of human equality in the Declaration of independence. It highlighted the fact the liberty and equality were the core components for the emancipation of America. It redefined Civil war as a struggle for free for all and to create a new unified nation. The government should be "of the people, for the people, and by the people."
Outcome:
It was a speech delivered by Lincoln.nIt dedication of soldiers National cemetery. The cemetery was for Union soldiers killed at the battle.
A remember quote:
... That this nation, under God, shall have a new birth of freedom, and this government of the people, by the people, for the people shall not perish from this earth
Significance:
November 1863, Lincoln was invited to deliver remarks, later known as the Gettysburg adress.
Added to timeline: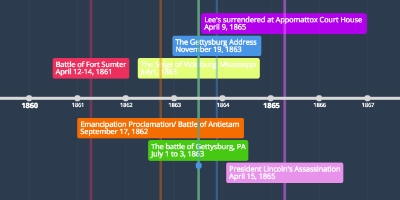 New timeline
Social Studies timeline
Date: