jul 1, 1863 - The battle of Gettysburg, PA July 1 to 3, 1863
Description:
Confederates were convinced that an invasion and victory in the North would encourage foreign nations to recognize the Confederate and would support peace movements in the north. General Lee invaded the North and was met by the Union Army at Gettysburg, LA. After 3 days of bloody fighting, Lee's army retreated in defeat
Outcome:
Union victory, estimated casualties- 51,000 total. It also was known as one of the most bloodiest and most decisive battle of the Civil War.
Significance:
The casualties were so great that the confederate army would never again invade the Union territory
Added to timeline: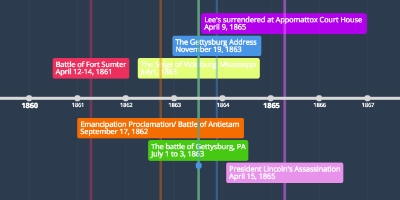 New timeline
Social Studies timeline
Date: