apr 19, 1775 - Battles of Lexington and Concord
Description:
About 700 British troops marched from Boston to Concord to retrieve rebel arms. At Lexington, they were met by few militiamen that they easily took care of. This gave time for the Patriots to prepare and spread word to Concord. When they reached Concord, there was a small battle with the British reining victorious and completing their search for military supplies. However, when they were on their march back to Boston, they were stopped by a large army of colonial Patriots were arriving from towns all over to help fight the British off and prevent them from taking the goods. They eventually were able to siege Boston and eliminate all 700 British soldiers.
Added to timeline: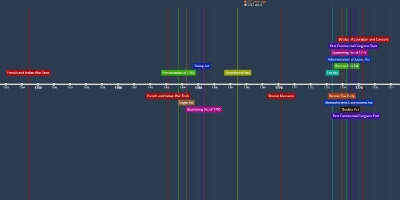 History Timeline
This is a timeline of the Colonial Resistance from the Frenc...
Date: