sep 17, 2001 - Abre el NYSE
Description:
El 17 de septiembre de 2001, día de la reapertura de los mercados tras los atentados terroristas a las torres gemelas el 11 de septiembre en Nueva York (9/11).
Todo resulto en una tremenda pérdida de 684,81 puntos, un record en ese entonces.
Revelation 18:3 (Capital of Capitals)
''For all nations have drunk of the wine of the wrath of her fornication, and the kings of the earth have committed fornication with her...''
http://www.hebcal.com/hebcal/?year=2001&month=09&yt=G&v=1&nx=on&mf=on&ss=on&i=on&lg=s&vis=on&d=on&c=off&geo=zip&maj=on&min=on&mod=on
Added to timeline: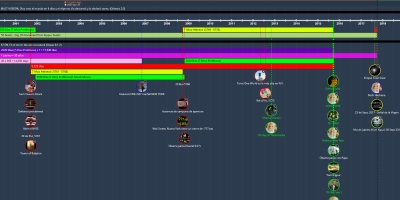 Señales - Signs - JESUS
Presagios, Alegorías - Harbingers, Alegories (Credits: many ...
Date:
Images:
YouTube: