sep 23, 2017 - 23 de Sept, 2017 - Señal de la Virgen
Description:
Génesis 1:14
''Y dijo Dios: «¡Que haya luces en el firmamento que separen el día de la noche; que sirvan como SEÑALES de las estaciones, de los días y de los años,''
Revelación 12:1-2
''Apareció en el cielo UNA GRAN SEÑAL una mujer vestida del sol, con la luna debajo de sus pies, y sobre su cabeza una corona de doce estrellas. Y estando encinta, clamaba con dolores de parto, en la angustia del alumbramiento.''
Genesis 1:14
''Then God said, "Let there be [a]lights in the [b]expanse of the heavens to separate the day from the night, and let them be for SIGNS and for seasons and for days and years;''
Revelation 12:1-2
''A GREAT SIGN appeared in heaven: a woman clothed with the sun, and the moon under her feet, and on her head a crown of twelve stars; 2 and she was with child; and she *cried out, being in labor and in pain to give birth..''
Added to timeline: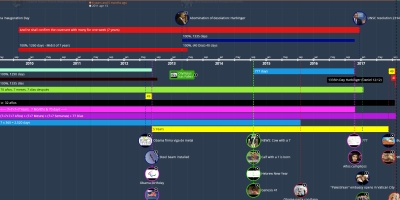 There is nothing new under the sun
A shadow of what is to come. Presagio - Sombra de lo que pue...
Date:
Images: