jul 26, 1953 - Beginning of the Cuban Revolution
Description:
Led by Fidel Castro against the Cuban dictator Fulgencio Batista. The revolutionaries assaulted the Moncada Barracks, forcing Batista to leave the country and Santa Clara and Santiago de Cuba were taken by rebels. Raúl Castro and Huber Matos led the rebels, Che Guevara was their superior.
N/O. (2018). Cuban Revolution. 01/19/18, de Kiddle Sitio web: https://kids.kiddle.co/Cuban_Revolution
Added to timeline: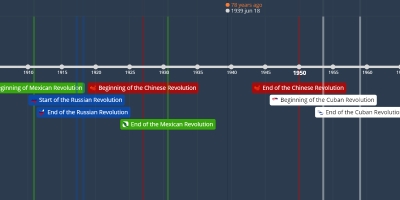 Timeline of Revolutions
Mexican, Russian, Chinese and Cuban Revolutions.
Date:
Images: