jan 2, 1927 - Beginning of the Chinese Revolution
Description:
Nationalist Government of China (Kuomintag) against the Communist Party of China (CPC).
Sun Yat-sen founded the liberal party with the help of Chiang Kai-shek, Bai Chongxi and Chen Cheng were important generals.
Mao Zadong was the leader of the Communist Party with Zhou Enlai, Zhu De and Peng Dehuai in the head.
After the Qing Dynasty fell, the two parties fought for power.
Nelson, Ken. (2018). The Cold War for Kids: Chinese Civil War. Ducksters. Retrieved from http://www.ducksters.com/history/cold_war/chinese_civil_war.php>.
Added to timeline: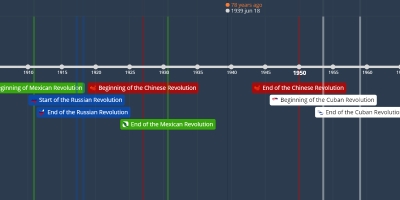 Timeline of Revolutions
Mexican, Russian, Chinese and Cuban Revolutions.
Date:
Images: