jan 10, 5 - Reconciliation, Eucharist, Anointing of the Sick, and Confirmation were properly instituded into the church.
Description:
Reconciliation/Penance: Used to be done publicly and in groups, and could only be performed once. In the 12th century, it became an individual thing and you could perform it any amount of times.
Communion/Eucharist: Came from Jewish rituals, but over time it became more distinct from Jewish rituals. Overall it has not changed much according to The First Apology By St. Justin. Although the first official communion was at the last supper.
Confirmation: Used to be celebrated with Baptism, and Communion at Easter Vigil
Added to timeline: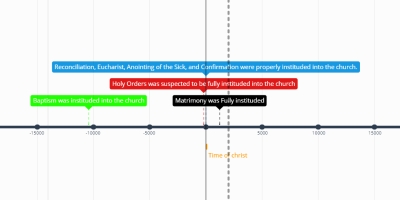 New timeline
Date: