feb 28, 1940 - Music sequencers begin development
Description:
During the 1940s–1960s, Raymond Scott, an American composer of electronic music, invented various kind of music sequencers for his electric compositions. The "Wall of Sound", once covered on the wall of his studio in New York during the 1940s–1950s, was an electro-mechanical sequencer to produce rhythmic patterns, consisting of stepping relays (used on dial pulse telephone exchange), solenoids, control switches, and tone circuits with 16 individual oscillators. Later, Robert Moog explained it as "the whole room would go 'clack - clack - clack', and the sounds would come out all over the place".
Analogue sequencers paved the way for digital sequencers which became popular in the early 80s. With the computer age exploding, the foundations of the modern DAW (digital audio workstation) was laid.
Added to timeline: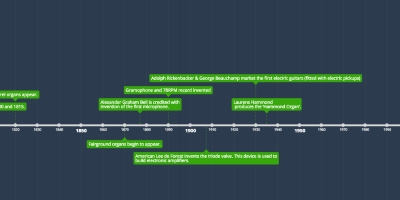 Music Technology Timeline
A timeline of key events in the history of music technology....
Date:
YouTube: