feb 27, 1983 - General MIDI is invented
Description:
MIDI (Music Instrumnet Digital Interface) is a technical standard that describes a communications protocol, digital interface and electrical connectors and allows a wide variety of electronic musical instruments, computers and other related music and audio devices to connect and communicate with one another. A single MIDI link can carry up to sixteen channels of information, each of which can be routed to a separate device.
Nearly all modern music software and most hardware continues to use MIDI as a standard, the protocol remaining unchanged from when it was first developed.
Added to timeline: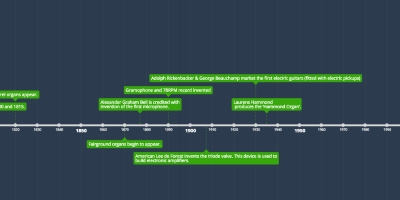 Music Technology Timeline
A timeline of key events in the history of music technology....
Date:
Images:
YouTube: