dec 31, 1600 - The Creation of the East India Trading Company.
Description:
A further move of colonization and conquering. The creation of the East India Trading Company was a major event that advanced the globalist agenda. Trade between Europe and Eastern Asia were existent before this, via the Silk Road, and even earlier between the Mediterranean, Mesopotamia, Persia and the East. However, the creation of the East India Trading Company would open that trading avenue in a huge way, and begin trade all over the world, and eventually lead to further colonization of South & South East Asia by European powers. This company would create trade lines between England and Europe, North America, Africa, Oceania and Asia. Some of the major exports at that time were Cotton, Silk, and Slaves. Foreign influence and trade had now reached most of the world, and the path to globalization powered its way forward.
Added to timeline: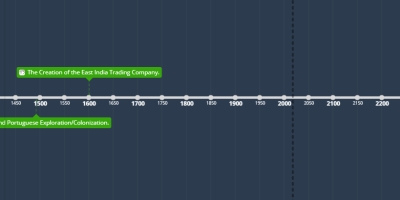 Globalization Timeline
Beginning with the rise of civilization, this timeline refle...
Date:
Images: