aug 3, 1492 - Spanish and Portuguese Exploration/Colonization.
Description:
While the date I chose was not the beginning of Spanish and Portuguese exploration, Columbus setting off for the Americas in 1492, is reference point many people can recall. In the 15th century, the Spanish and Portuguese began their quests West across the Atlantic ocean, South around Africa, and East to South Asia and Oceania. With the rise of settlement in the Americas, resource extraction and exploitation of native populations began, and the many commodities the Americas could supply became apparent to the rest of the western world. This new resource gold mine (literally in some cases) was a major find for European markets, and would begin a great migration West to conquer and settle these lands of opportunity. Prior to this, massive market frontiers weren't as "open for the taking". While indigenous people of these areas would pay the price for these quests of wealth, this is one of the pillars that expanded globalization as we know it today.
Added to timeline: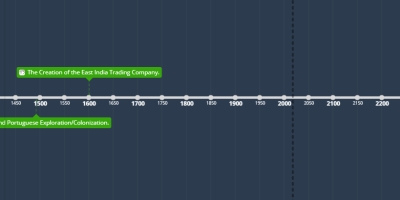 Globalization Timeline
Beginning with the rise of civilization, this timeline refle...
Date:
Images: