mar 21, 1974 - Objections of Treaty of Paris - Hard power/ Globalism
Description:
The conflict arose when the First Philippine Republic objected to the terms of the Treaty of Paris under which the United States took possession of the Philippines from Spain, ending the Spanish–American War. Fighting erupted between forces of the United States and those of the Philippine Republic on February 4, 1899, in what became known as the Second Battle of Manila.
Added to timeline: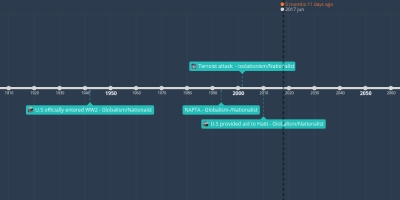 Glo/Nat Foreign policy
Globalism- Blue
Isolationism- Yellow
Nationalism- Red
Hard p...
Date:
Images: