2h 30min, feb 26, 2006 y - The Idea Of Twitter Is Born
Description:
Odeo never got any real recognition in the public eye so the group, Jack Dorsey, Noah Glass, Evan Williams and Biz Stone, another entrepreneur, had to take another approach. Evan Williams bought out Odeo's investors and shifted the focus toward a little idea about 140 character status updates. The original idea is attributed to Jack Dorsey, and was called the status concept.
Bilton, Nick. Hatching Twitter., Chapter II, Section Status, Pages 55-58
Added to timeline: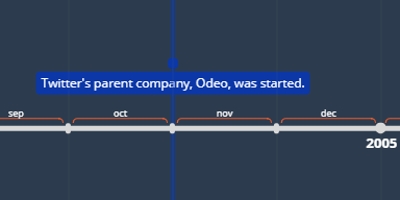 History Of Twitter
This is the history of one of my favorite apps, Twitter.
Date:
Images: