jan 1, 1942 - Invasion on western front of Europe - Globalism/Isolationism
Description:
In order to defeat Germany in WW2, president Franklin Roosevelt worked with Great Britain to plan a major invasion of western Europe. In 1943, he appointed General Dwight Elsenhower to lead the attack.
Added to timeline: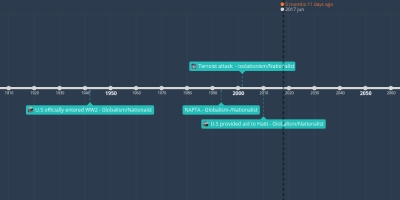 Glo/Nat Foreign policy
Globalism- Blue
Isolationism- Yellow
Nationalism- Red
Hard p...
Date:
Images: