sep 11, 2001 - Terroist attack - isolationism/Nationalist
Description:
al -Qaeda terrorists attacked the United States. President George W. Bush asked Congress for authority to use military force against those responsible. U.S. troops were sent to Afghanistan, where al-Qaeda leaders were based.
Added to timeline: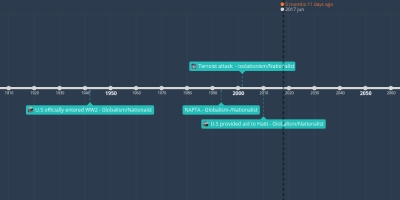 Glo/Nat Foreign policy
Globalism- Blue
Isolationism- Yellow
Nationalism- Red
Hard p...
Date:
Images: