dec 7, 1941 - U.S officially entered WW2 - Globalism/Nationaist
Description:
Japan attacked Pearl Harbor, Hawaii. The next day, U.S. President Franklin Roosevelt asked the U.S. Congress for a declaration of war against Japan. Congress acted quickly
Added to timeline: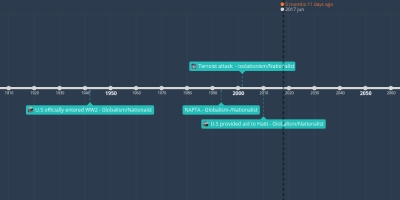 Glo/Nat Foreign policy
Globalism- Blue
Isolationism- Yellow
Nationalism- Red
Hard p...
Date:
Images: