jan 1, 1954 - Mao shells Quemoy and Matsu
Description:
The PRC had not previously attempted to take Taiwan as it was well defended and the PRC was not confident that it had the air power or landing craft necessary, the US 7th Fleet was present, and the US promise to protect Taiwan.
In 1954, Mao tested US resolve and shelled Quemoy and Matsu. Eisenhower responded even suggesting that nuclear weapons would be used if Taiwan was directly threatened. John L Gaddis suggests that Nationalist Chiang Kai Shek had a role in the USA.
Added to timeline: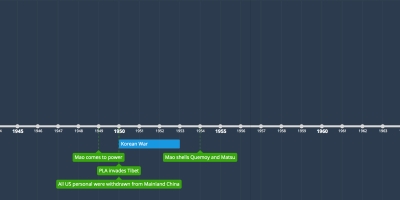 pic
Date: