nov 12, 1815 - Elizabeth Cady Stanton
Description:
Wife of Henry Stanton, who was an abolitionist, Elizabeth became active in the anti-slavery movements, working along with more famous abolitionist such as, the Grimke Sisters, & William Lloyd Garrison. When slavery was ended with the 14th & 15th amendments, she became a women's suffragette. After going to the Seneca Falls Convention in 1848, 3 years later, she met with Susan B. Anthony in 1851, collaborating on speeches, articles & books.
Along with Susan B., Stanton was a co-founder of the National Woman Suffrage Association, or NWSA.
Added to timeline: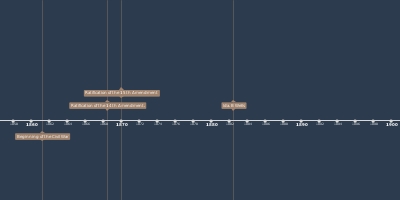 Suffrage Timeline - Jonathan R.
Date: