jul 1, 1800 - English, Scots-Irish, Scots, and German Immigrants
Description:
Push/Pull factors - The English came over to improve their lives by acquiring more land and having more freedom, both religiously and socially. The Scots-Irish came to the U.S. to gain more social, political, environmental, and religious freedoms. The Scots wanted to escape the monarchy in their homeland and wanted to have more religious freedoms. German immigrants came to America to again, gain religious freedom and also have a different political aspect.
Immigrants - English, Scots-Irish, Scots, German
Background Information -
Scots-Irish originates from Scotland and descends from Presbyterian, who emigrated to Ireland. The Scots immigrated from Scotland and wanted a new life in America.
Added to timeline: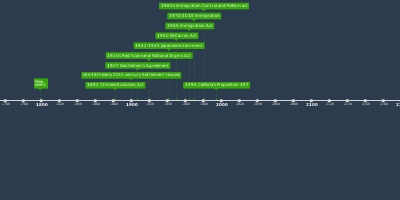 New timeline
Date: