apr 21, 164 - 164 A.D. The plague spreads throughout the Roman empire.
Description:
The Antonine Plague of 165 to 180 AD, also known as the Plague of Galen was an ancient pandemic brought back to the Roman Empire by troops returning from campaigns in the Near East. The disease broke out again nine years later, according to the Roman historian Dio Cassius, causing up to 2,000 deaths a day in Rome, one quarter of those who were affected, giving the disease a mortality rate of about 25%. The total deaths have been estimated at five million, and the disease killed as much as one-third of the population in some areas and devastated the Roman Army.
Added to timeline: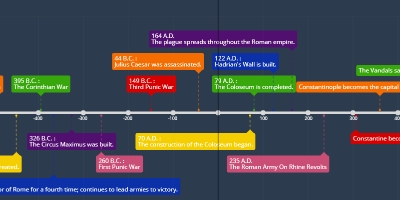 Ancient Roman History
Roman Empire from 500 B.C. - 500 A.D.
Date: