jan 2, 260 BC - 260 B.C. : First Punic War
Description:
The first Punic War developed as a result of a dispute over the Sicilian city of Messina. Rome sent an army to Sicily, which Carthage held to be part of its sphere of influence. For the first time, Rome was forced to raise a navy. After a protracted and difficult conflict, during which both sides won and lost battles, the Romans defeated the Carthaginian navy off the coast of Sicily. Carthage was forced to sue for peace. It renounced all claims to Sicily and agreed to pay an indemnity to Rome.
Added to timeline: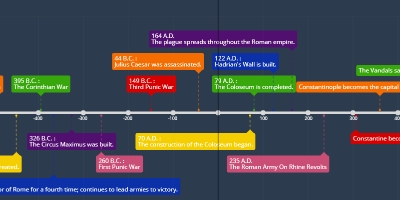 Ancient Roman History
Roman Empire from 500 B.C. - 500 A.D.
Date: