jan 1, 1913 - Neils major work.
Description:
Bohr's impact on physics, quantum mechanics, and the philosophy of science is so massive its tough to wrap your head around. He was working during the same time and sometimes alongside notable scientists Max Planck, Albert Einstein, Erwin Schrodinger, and Werner Heisenberg, just to name a few. All of these individuals have in some way attributed to the modern understanding of the behavior and structure of atoms and other subatomic particles, and are largely responsible for the paradigm shift from a 'classical physics' to quantum mechanics; Though It is important to note that it is widely debated whether to acknowledge these achievements in physics as a true paradigm shift in the Kuhn Scientific Revolution sense, or not. Some methods used in understanding and explaining the actions of atoms and particles through quantum mechanics do not agree with the former paradigm, hence the label 'classical' being applied to the aforementioned understanding of physical concepts.
Please note the videos are both pretty long. I had trouble finding a shorter video to properly summarize his impact.
"Niels Bohr - Biographical". Nobelprize.org. Nobel Media AB 2014. Web. 22 Oct 2017. <http://www.nobelprize.org/nobel_prizes/physics/laureates/1922/bohr-bio.html>
Added to timeline: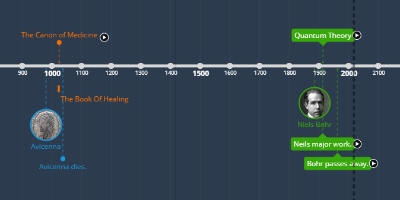 Phil202 Timeline 08/22 OCT 17 BDK
Avicenna, Neils Bohr
Date:
YouTube: