0h 15min, sep 12, 2013 y - Assad Sends Letter to UN
Description:
The Assad regime sent a letter to the United Nations Secretary General which said that Assad signed a legislative decree providing the accession of Syria to the Chemical Weapons Convention. In the letter, Assad said Syria would observe its CWC obligations immediately, as opposed to 30 days from the date of accession, as stipulated in the treaty.
In Geneva, Secretary of State John Kerry met with his Russian counterpart, Foreign Minister Sergey Lavrov, to begin discussions of the Russian proposal for securing the Assad regime's chemical weapons.
Added to timeline: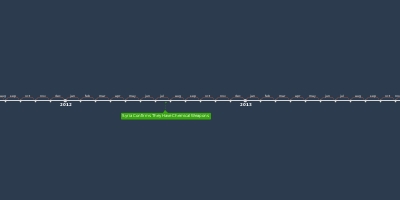 Syrian Civil War
Date: