aug 21, 2013 - Opposition Claimes Attack on Ghouta
Description:
Syrian opposition activists claimed that a large-scale chemical weapons attack occurred at the suburbs of the Ghouta region, where Syrian forces had been attempting to expel rebel force. Reports said that thousands of victims of the attack have been counted in the Damascus suburbs, whose symptoms were typically body convulsion, forming from mouths, blurry vision and suffocation. Although the number of victims has not been clarified yet, it is estimated to exceed 1,000 people, many of whom were non-combatant.
The United Nations Security Council also held an emergency meeting regarding the attack. The meeting produced a statement demanding further clarity of the incident.
Added to timeline: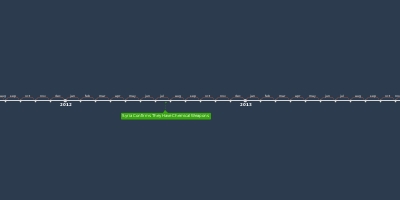 Syrian Civil War
Date: