0h 10min, nov 15, 2013 y - OPCW Approves Plan
Description:
The OPCW Executive Council approved a plan for the elimination of Syria's stockpile of chemical weapons. The plan call for transporting the weapons outside of Syria and destruction of the chemical agents in a country that has yet to be identified. The "most critical" chemicals are to be transported out of Syria by December 31, 2013 and the remainder by February 5, 2014. The plan calls for the destruction no later than June 30, 2014, and the destruction of certain priority chemicals by March 15, 2014.
The Executive Council also announced that the OPCW was able to verify that 60 percent of Syrian declared, unfilled, munitions for chemical weapons delivery had been destroyed. Syria committed to destroying all of its unfilled munitions by January 31, 2014.
Added to timeline: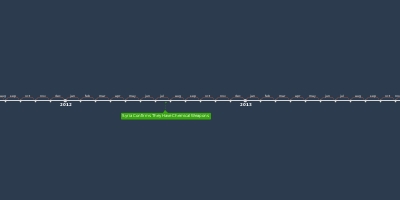 Syrian Civil War
Date: