jan 1, 1944 - SEUA Decision
Description:
Comprised of 200 private insurers
Missouri filed complaint with US Dept of Justice's Antitrust Decision:
-concerted to control 90% of fire and allied market
-fixed premium rates and AGT commissions
-used coercion and intimidation to force non-SEUA members to comply
-prevented agents from representing both SEUA and non-SEUA
-boycott consumers if they didn't purchase from them
SEUA didn't deny that these happened.
They also did not contest that these are forbidden under the Sherman Antitrust Act.
They merely contended that insurance was not subject to the act.
District court agreed.
On appeal, US Supreme Court ruled that it was subject (to laws governing interstate commerce) because:
-insurance is not a distinct business in each state
-only 18/200 were domiciled in 6 SE states
-Before and after Paul intangible products like electrical impulse of telegraph transmissions were subject to federal regulation
-Other businesses make sales contracts in other states but are still subject to federal reg
NAIC (formerly known as NCIC, formerly known as NIC):
-opposed federal regulation
-Supreme Court denied rehearing
NAIC recommended:
-allow states to continue regulating
-allow cooperation to the extent of establishing adequate rates and coverages
-Exclude insurance from the Robinson-Patman Act and FTC Act?
Added to timeline: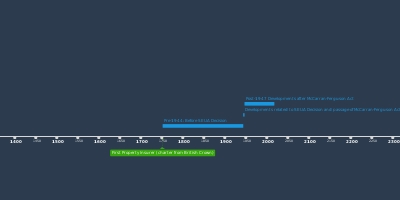 Exam 6 - History of Insurance
Date: