feb 27, 1985 - Waller County Hospital Closes
Description:
Memorial Hospital of Waller County was closed late Wednesday, February 27, because, according to a spokesman for the Health Care Management, no agreement could be reached between their group and that of Memorial Care System which had the hospital under contract until December 31. 1984. At the last minute, the Health Care group decided not to lease the county hospital. Memorial Hermann left because they didn't have adequate funds.
Added to timeline: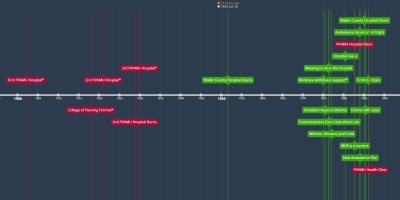 Waller County Hospital History
Red is for Hospitals/Health on PVAMU. Green is for the Walle...
Date: