jul 1, 1975 - Unstable Hospital Lifetime
Description:
From the hospital's inception to July 1st, 1975, the hospital had a shifting staff of physicians, causing it to repeatedly sink into poor service. On this date, L. W. Winfree got a person called Henderson to whip local healthcare into shape.
Added to timeline: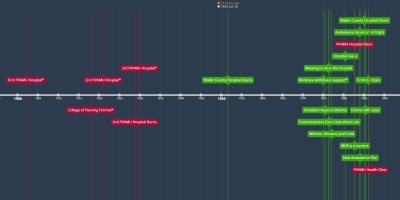 Waller County Hospital History
Red is for Hospitals/Health on PVAMU. Green is for the Walle...
Date: