jun 25, 1950 - America joined Korean War
Description:
The Soviets wanted to expand the sphere of communist influence into Korea. The United States countered by encouraging the establishment of democracy. Additionally, the United States stressed the importance of containment, which is a foreign policy used to prevent the spread of communism.
The Truman Doctrine was an American foreign policy whose stated purpose was to counter Soviet geopolitical expansion. It implied American support for other nations allegedly threatened by Soviet communism.
Added to timeline: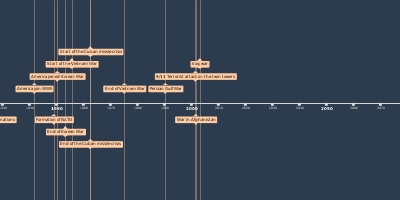 20th century US foreign policy
Date: