aug 3, 2001 - President George W. Bush denies all federal funding for stem cell trials.
Description:
Former President Bush continues the ban on the United States government using tax dollars to establish research using human embryo cells. This ban set the United States development of stem cell uses far behind any other nations programs.
The second significant viewpoint which is at the other end of the spectrum, is the view that stem cell research is unnecessary. The people believe that the trials are cruel and enhumane. This is an important stance that comes from conservatives who believe that an unborn human even a couple days old deserves the rights given to full grown humans.
Added to timeline: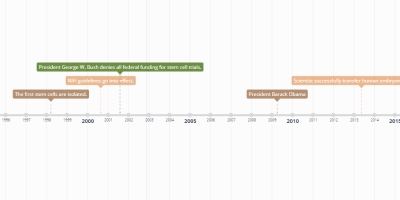 CM Timeline
Date:
Images: