jan 5, 1954 - Eco-Horror Movies
Description:
Also known as the "Nature-run-amok" genre, Eco-Horror films are perhaps the broadest and most long-lived of exploitation films. Movies in this genre almost always deal with nature reacting in some way to human stimulus, typically as a response to tampering with the environment. Movies in the '50s, such as "Godzilla", and "Them!" typically focus upon the dangers of nuclear testing. Movies in the 1970s, such as "Night of the Lepus" and "Frogs" focus on the potential dangers of pollution. Other films are less focused around the environment and have shrewder origins; for example, a slew of movies (many of which were Mockbusters) focusing around dangerous rogue animals followed the extreme success of Spielberg's "Jaws". Some of these movies include "Cujo", "Piranha", "Orca" and "Tentacles".
(Image: North American poster art for "Godzilla: King of the Monsters!". Toho Co. LTD. 1956.)
Added to timeline: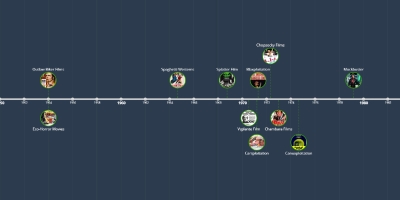 The Many Types of Exploitation Films
An exploitation film is a film that attempts to profit by fo...
Date:
Images: