sep 1, 1964 - Spaghetti Westerns
Description:
Spaghetti Westerns, otherwise known as Italian Westerns, are a wide subgenre of Western-themed movies made by Italian film companies. These films were designed to emulate the film-making style of director Sergio Leone, who directed "A Fistful of Dollars". This movie, which released in September of 1964, received international acclaim for how it deviated from the typical "Hollywood" western, as it was much more violent and much less "moral". Some of the movies that attempted to emulate it are "A Bullet For the General", "Run, Man, Run", "Sabata", and "The Mercenary".
Image: (Symeoni, Sandro. Per un pugno di dollari. Cinematerial.com. 1964.)
Added to timeline: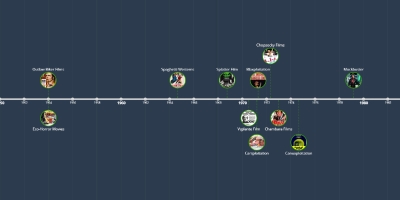 The Many Types of Exploitation Films
An exploitation film is a film that attempts to profit by fo...
Date:
Images: