mar 7, 1979 - Mockbuster
Description:
The "mockbuster," otherwise known as a "remakesploitation film", is a movie made by a company designed to cash in on the advertising money spent by other movie studios by developing a movie designed to confuse consumers into mistaking it for a different popular movie. Films have titles and promotional art that mimics those other movies, such as "The Day the Earth Stopped" to "The Day the Earth Stood Still" or how the promotional art for "Starcrash" closely resembles the promotional images for "Star Wars". Though the term "mockbuster" was used as early as 1959, the phrase didn't come to prevalence until the release of the aforementioned "Starcrash" and other movies attempting to capitalize on the success of "Star Wars". This genre continues to be extremely popular with film companies such as The Asylum building their entire production system around cashing in on popular properties.
In more recent years companies have released a slew of animated mockbusters designed to emulate Disney movies. Some of these imitations include "Ratatoing" (Disney's "Ratatoullie"), "Wings" (Disney's "Planes"), "Kiara the Brave" (Disney's "Brave"), "What's Up" (Disney's "Up"), "Frozen Land" (Disney's "Frozen"), "Tangled Up" (Disney's "Tangled") and many others.
(Image: Poster for "Starcrash". Posters.Grindhouse.com. New World Pictures. 1979.)
Added to timeline: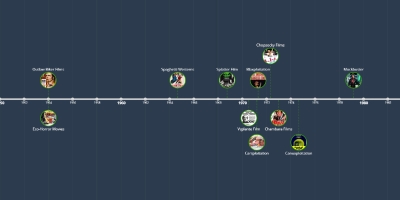 The Many Types of Exploitation Films
An exploitation film is a film that attempts to profit by fo...
Date:
Images: